Ahmed Jallow, City Limits, 09-09-19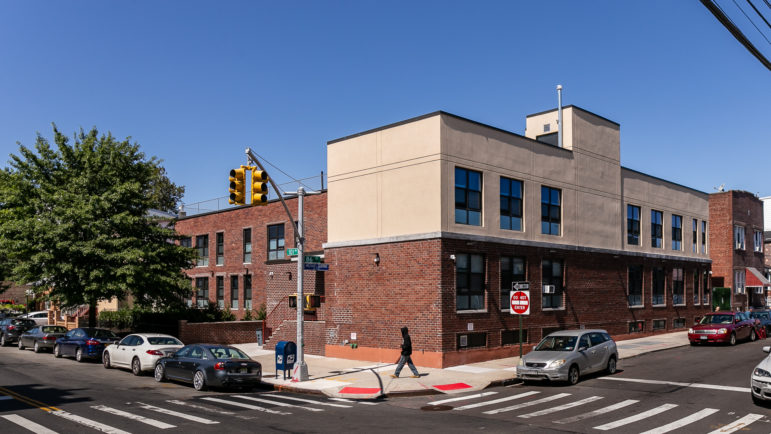 Over 500 residents of the Ozone Park community packed the halls of the Nativity of the Blessed Virgin Mary in July of 2018 for a town hall meeting. Rarely do town hall meetings draw huge crowds, but this one did. It was called to confront Department of Homeless Services (DHS) officials about a proposed 113-bed men's shelter on the corner of 101 Avenue and 86 street.
Mayor de Blasio's plan to open 90 new shelters has been met with fierce opposition in some neighborhoods across the city. Residents cite various reasons for their objection to shelters in their backyard: an anticipated rise in crime, a projected impact on quality of life, a feared fall in property value or sometimes an alleged lack of services for the shelter population.
Perhaps nowhere in the city was the opposition to a proposed shelter more intense than in Ozone Park. Residents showed up in their hundreds to town hall meetings. They held demonstrations and filed a lawsuit. Sam Esposito, a community leader, went on a two-week hunger strike that ended with a trip to the hospital. "There was no other way I could do it. Nobody was listening to us," says Esposito now. "I felt like I brought light to the situation," he adds. After the city dropped plans to house mentally ill men as originally intended, the shelter opened its doors early this year.
Claims of impact, but little proof
Prior to the contested Ozone Park facility arriving, Community District 9, which covers the neighborhood, had no shelters. There are 309 homeless individuals in the system across the city that hail from this district but until now it had no shelter beds. Placing this shelter at this location was in line with the mayor's promise to "equally" distribute them across the city. The district now has 103 homeless people living there.
Scrutiny of city's analysis
Last year, when the city announced a 150-bed shelter for men in the old Park Savoy hotel in midtown Manhattan, residents quickly formed a civic group called The West 58 Street Coalition. In a bid to block the opening of the shelter, the group sued the city, ostensibly for safety violations like fire traps. The lawsuit also accused the city of failing to "perform proper environmental and fair share analysis"
Shelter skepticism is smart politics
While single men's shelters receive the bulk of backlash, other shelters—even those that house women and children as in Riverdale where the city was accused of "bait and switch" after it converted a market-rate apartment building into a shelter for families with children —also sometimes face protest from communities. Families and children make up the majority of the homeless population in New York City. Currently 70 percent of the homeless population are families and children.
Shelters vs. economic ambitions
There is general agreement that the lack of affordable housing is the major cause of homelessness. Where there has been a backlash against a shelter, activists say they would prefer a permanent or low-income housing instead.
For more information, click here